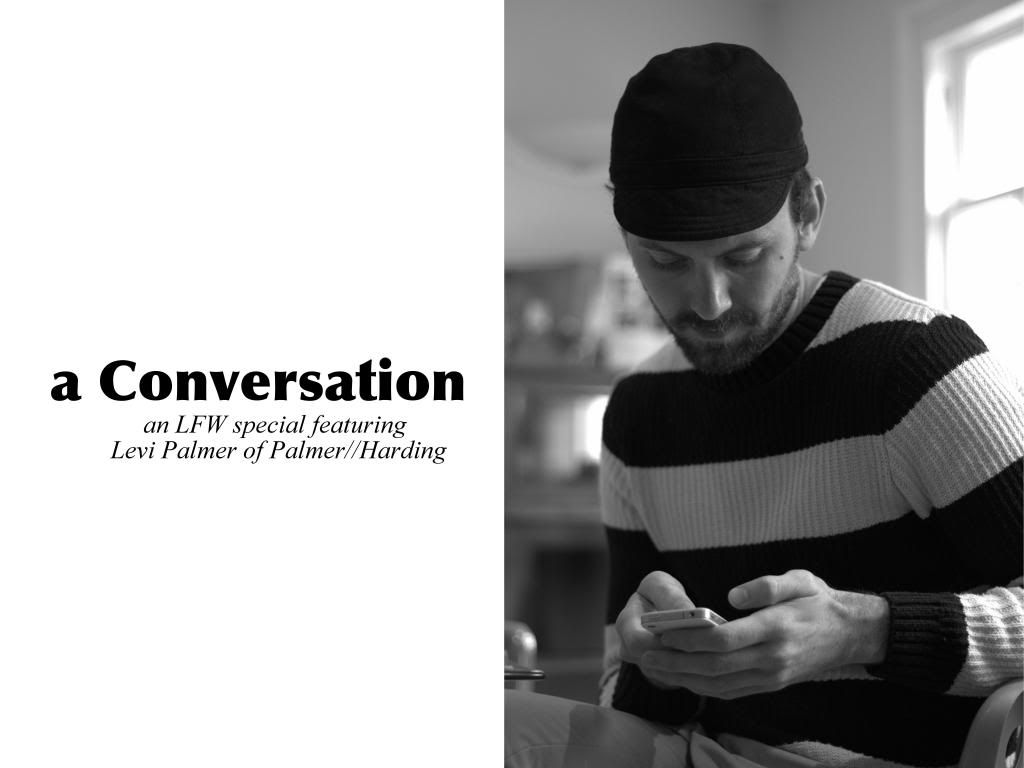 a Conversation is a feature which documents conversations between various individuals and The Dream Stalker. It is also a sub-section of our ongoing Lost Voices series. This conversation is a London Fashion Week special.
Unfortunately, this season I had to skip the
Palmer//Harding
show -as I was ill -but the day before the show, I stood with Levi Palmer in their styling room at Central Saint Martins and discussed the collection, as the We Cast London girl strutted the casting runway while waiting on the arrival of models. It all feels very familiar backstage -Levi has most of it under control, though there is a little bit of a hitch with something as Matthew scrambles off to try fix it.
As has probably become obvious, I'm gaga over Palmer//Harding. They have a knack for taking the simple things and showing us -or reminding us that there is beauty in simplicity. This season was no different as they tackled sheets of white paper.
TDS:
So what's different this season?
LP:
Well, you know, the collection is really different which is the most obvious thing. We have a bit more experience, the design of the space is different. I think what we learnt, more importantly, is the importance of bringing people into the [Palmer//Harding] atmosphere. The reaction we had last season from the collection and the set and all the elements we designed into that really had a huge impact on the buyers and press reactions.
I think for us, one of the things we've also done is really push ourselves in terms of growing the product range, we have a lot -dresses (proper dresses not shirt dresses), multiple trousers, skirts, jackets, coats, leather, knitwear. There are a lot of new elements that, I guess, make the collection more believable, because it's easier to see how the collection is going to be styled.